Condenser microphones are studio mainstays for mic-ing both vocals and instruments, but be aware that they will require an external power source and almost always cost more than a comparable dynamic microphone.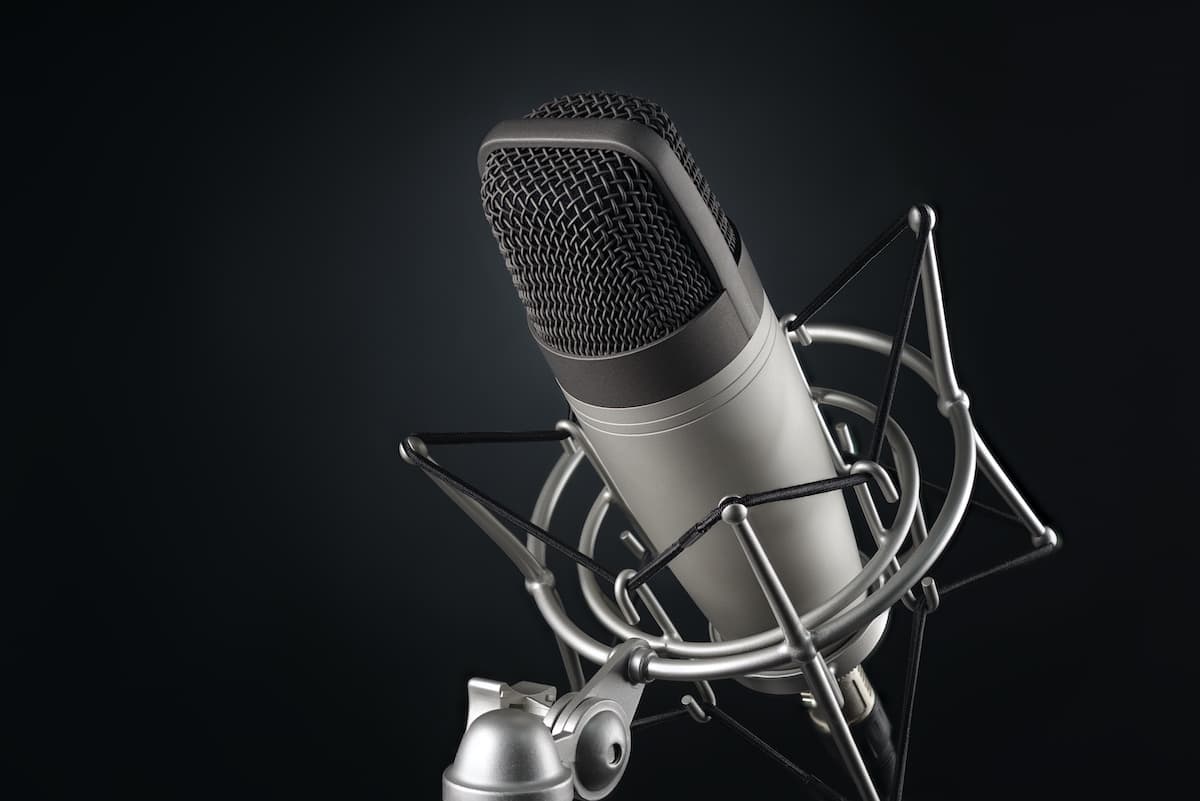 What Is a Condenser Microphone?
Condenser microphones are recording tools that rely on a particularly sensitive vibrating diaphragm to capture sound. Condenser microphones are considered the most versatile recording studio microphones and can be used to record essentially any instrument. They are somewhat more fragile and conically sensitive than dynamic mics, making them great for recording vocals and acoustic instruments. Condenser mics are typically held up by a shock mount that uses elastic bands to suspend the microphone in the air.
There are two types of condenser microphones: large-diaphragm condenser mics and small-diaphragm condenser mics. Large-diaphragm mics are better at picking up deeper, low-end sounds, while small-diaphragm mics are better at picking up high-frequency sounds. For example, you might use a large-diaphragm condenser microphone to record vocals, and a small-diaphragm condenser mic to record acoustic guitars or as drum overheads to pick up cymbals.
How Do Condenser Microphones Work?
Condenser microphones are designed to pick up high frequencies. To accomplish this, the internal components of the microphone include a capacitor. The capacitor is made up of two suspended, lightweight metal plates—known as the diaphragm and back plate—and a condenser capsule that sits between them. When acoustic sound waves reach the diaphragm, the sound pressure causes it to vibrate against the back plate. This in turn causes the voltage between them to fluctuate. This fluctuation mimics the pattern of the incoming sound waves and creates an electrical signal. An external power supply boosts the audio signal to deliver an amplified sound.
3 Pros of Condenser Microphones
Condenser microphones are great for capturing studio-quality sound.
1.

 Wide-frequency response: Wide-frequency response refers to the mic's ability to capture varying decibels. This wide-frequency response enables condenser mics to pick up subtle, nuanced sounds with superior accuracy.

2.

 Superior transient response: Transient response refers to the mic's ability to capture and reproduce crisp, high-frequency sounds without distorting them. Small-diaphragm condenser microphones have very good transient response, allowing them to deliver superior sound quality when compared to dynamic mics.

3.

 Omnidirectional polar pattern: Though they are not ideal for mic-ing individual people or instruments on stage, they're great for mic-ing an entire orchestra or choir. These mics have an omnidirectional polar pattern, or pickup pattern, that allows the mic to pick up sounds from any direction.
3 Cons of Condenser Microphones
There are some notable reasons why you may choose a dynamic mic instead of a condenser mic.
1.

 Not ideal for live performances: While condenser mics are great for picking up subtle, nuanced sounds, they're not great for picking up loud sounds. The condenser capsule is extremely sensitive and loud sounds can overwhelm the microphone, causing sounds to become muddled and distorted.

2.

 More expensive: While there are less expensive condenser mics available on the market, you will have to make a considerable investment to get high-quality sound.

3.

 Reliance on an external power supply: Condenser mics receive phantom power from an audio interface or preamp. The preamp sends a 48-volt signal directly to the microphone via an XLR cable. This is typically not a problem when recording in a home studio; however, it is a limitation that you won't find with dynamic mics.
source: https://www.masterclass.com/articles/what-is-a-condenser-microphone